Gehara is a monster. He has long and dark hair. His appearance is Gehara the Dark and Long Haired Monster and he is set for a sequel titled Gehara Monster Martial Law. His 'power' is his poison hair and horrible smell.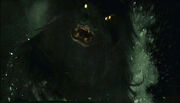 The same person that did the GMK effects did the effects for Gehara.
Gehara is approximately 50-80 meters tall.
Gehara figures do exist, you can buy them off eBay.
Appearances
Edit
Gehara the Dark and Long Haired Monster
Gehara Monster Martial Law