Ghost Godzilla was the spirit of Gojira that was supposed to appear in a canned project called Godzilla vs Godzilla. The restless spirit of the original Godzilla was supposed to attract the attention of the present day Godzilla, in which they both battle across Japan until the phantom kills Godzilla. This character was dropped in favor of Destoroyah since at least 3 entries to the Heisei series made Godzilla fight clones of himself. But, fans tend to call the Godzilla in Godzilla, Mothra, and King Ghidorah: Giant Monsters All-Out Attack Ghost Godzilla, since that version of Godzilla has a spiritual origin.
Refrences
Edit
http://www.tohokingdom.com/cutting_room/godzilla_vs_godzilla.htm==
http://godzilla.wikia.com/wiki/Ghost_Godzilla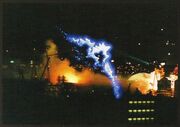 Ad blocker interference detected!
Wikia is a free-to-use site that makes money from advertising. We have a modified experience for viewers using ad blockers

Wikia is not accessible if you've made further modifications. Remove the custom ad blocker rule(s) and the page will load as expected.