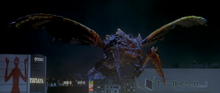 Megaguirus
is a Kaiju originally from the movie
Godzilla vs. Megaguirus.
Megaguirus is essentially the queen of the Meganura. This pays homage to Toho's original
Rodan
film, as the Meganura are the villains of the film. Megaguirus also appears in many of the
Godzilla
series' video games, such as:
Godzilla: Save The Earth
and
Godzilla: Unleashed.
Ad blocker interference detected!
Wikia is a free-to-use site that makes money from advertising. We have a modified experience for viewers using ad blockers

Wikia is not accessible if you've made further modifications. Remove the custom ad blocker rule(s) and the page will load as expected.